Watch Big Hero 6
---
Sometimes the hero you get is not the hero you expect, and in the case of Big Hero 6 this is certainly the case. Big Hero 6 features the very first partnership between Marvel Comics and Walt Disney Pictures. It features the superhero team and is completely done in 3D computer animation. The film stars a young robotic genius named Hiro Hamada voiced by Ryan Potter and his robot/hero Baymax who is voiced by Scott Adsit. Baymax is unique given the fact that he is inflatable, leading to a long host of bubble jokes and similar self-deprecating humor. Hiro built Baymax to be a healthcare companion; therefore, Baymax is always looking at how he can help others. Even though he is a robot it is clear that he feels and cares.
The pair accidentally discover a criminal plot and decide that they have to do something about it. They do so by putting together a mismatched group of crime-fighters. The dynamics of the oddball group lend as much to the humor as does the plot line propelling the film along and making it fun for the entire family.
|
2014
|
1 hr 33 min
|

/

10
Cast

Studio

Director

Chris Williams, Don Hall

Language

English
More Like Big Hero 6
Big Hero 6 News
Full List of Oscar Nominees Includes Familiar Faces and a Few Big Snubs
January 15, 2015 @ 10:15 am PST
|
Read More

Watch the Adorable First Trailer for Marvel/Disney's 'Big Hero 6'
July 15, 2014 @ 5:43 pm PST
|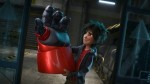 Here's a sad fact: 2014 is a year without a scheduled Pixar movie. But thanks to Disney and Marvel, we have the next best thing. In fact, "Big Hero 6" might prove that Disney is the new Pixar. Never mind that they merged. You know what we mean. The first official full trailer for the Disney/Marvel animated feature gives a good preview of what kind of movie you're going to get with "Big Hero 6.
Read More


Watch Big Hero 6 Trailer


Watch Big Hero 6 Online - Watch online anytime anywhere: Stream, Buy, Rent
Big Hero 6 is currently available to watch and stream, buy, rent on demand at Amazon, Vudu, Google Play, FandangoNow, iTunes, YouTube VOD online.