Watch Spawn
---
"Born in darkness. Sworn to justice."
Launched in 1997, Spawn is based on the comic book series having an identical title. The superhero action movie is the first one to cast an African American as the lead character of a large comic book. The plot begins with Al Simmons, a military veteran and assassin played by Michael Jai White, who is deceived by the leader of a secret government organization, Jason Wynn. Wynn delegates Simmons with an assignment to destroy a biochemical facility in North Korea. On the other hand, Wynn orders his best assassin, Jessica Priest, played by Melinda Clarke, to kill Simmons after he fulfills his mission.
Priest succeeds in killing Simmons by starting gas fire. After dying, he goes straight to Hell where the devil named Malebolgia, played by Frank Welker, offers him with a Faustian contract. Simmons will be allowed to come back to earth to see his dearest fiancee if he agrees to serve the devil for eternity and becomes his general during Armageddon. Simmons is reluctantly agrees and is allowed to come back to earth.
After his arrival, Simmons finds out that it has already been five years since he died. The fiancee he has longed to see is now married to his best friend named Terry. He finds them living the life that he and Wanda planned before he died. As he walks the earth alone, Simmons meets The Violator, a clown-form demon. Along the way, he also encounters an esoteric old man named Cogliostro. The mysterious character later reveals himself as a former Hellspawn who was able to free himself from the devil and is now a soldier for God.
Simmons finds Wynn who is now a successful high-caliber weapons dealer and has developed the supreme biological weapon called Heat 16. Enraged, Simmons attacks Wynn, but fails to kill him. Instead, he kills Jessica before retreating intuitively using Spawn's unique armor.
After Simmons' rage, The Violator advises Wynn to attach a device to his heart that will set off the global launch and activation of the fatal virus in the event that he is killed. The device is actually to safeguard Wynn from possible assassination attempts. The devil, however, wants Simmons to assassinate Wynn to set off Armageddon.
Later on, Simmons finds himself teaming up with Cogliostro to fight the evil that threatens the survival of mankind.
|
1997
|
1 hr 32 min
|

/

10
Cast

Studio

Director

Mark A.Z. Dippe, Mark Dippe

Language

English
Spawn News
'Black Dynamite': Watch The Complete, Un-aired, 11-Minute Pilot For the Adult Swim Series
August 16, 2011 @ 8:00 am PST
|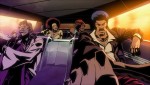 Yidio Nation, meet the full 11-minute pilot of Adult Swim's upcoming 2012 animated series "Black Dynamite," based on the blaxploitation love-letter starring live-action "Spawn" star and "The Dark Knight" bit player Michael Jai White that became an action-comedy hit a few years back. But who is the man will post full episodes for his brother man? Colin. Can you dig it?
Read More


Watch Spawn Trailer

Spawn 1997 Movie Trailer
|
1:38

Watch Spawn Online - Watch online anytime anywhere: Stream, Download, Buy, Rent
Spawn is currently available to watch and stream, download, buy, rent on demand at Hulu, Amazon, Vudu, Google Play, FandangoNow, iTunes, YouTube VOD online.