Watch Spring Breakers
---
"A little sun can bring out your dark side."
Spring Breakers is a thriller that was released in the United States in 2013. It was written and directed by Harmony Korine. The movie stars Selena Gomez, Vanessa Hudgens, Ashley Benson, Rachel Korine, and James Franco. The supporting cast consists of Heather Morris, Gucci Mane, and Ash Lendzion. It is rated R for its suggestive sexual content, nudity, language, and violence. The running time of the film is 94 minutes.
The film opens up by establishing the lives of four close friends at college, who all live in the same dorm room. With the semester almost over, the girls are bored. They want to have fun and be adventurous. Luckily, they realize that spring break is just around the corner. However, they do not have enough money to make a trip down to Florida. Thus, it is their goal to raise enough money to have a memorable spring break.
The idea they come up with is to rob a convenience store. They pull it off successfully. Next thing you know they leave campus and head to Florida. When they get down there they party too hard and get arrested for using drugs. Luck finds their way again as they are bailed out by a strange drug-dealing gangster named Alien (played by James Franco). For unknown reasons, he takes the four girls home and acts as their mentor.
The eccentric and uncontrollable Alien is just the type of person the girls want to party with, but he will quickly prove to be too much for them. This movie is about the girls going on an adventure, and having to come to the realization that they may have gone too far. All they wanted was to have fun on spring break, and they certainly got more than they bargained for.
|
2013
|
1 hr 33 min
|

/

10
Cast

Studio

Director

Harmony Korine

Language

English
Spring Breakers News
New on DVD July 9-19: Demons, Aliens and Out-of-Control College Students
July 14, 2013 @ 6:41 pm PST
|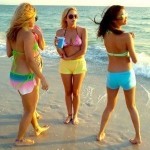 It's the middle of the summer, the sun is hot, and you're in the mood to stay inside and watch a movie that will get your adrenaline flowing. You're in luck; new movie releases on digital and DVD for mid-July include films about terrors including ravenous demons, soul-stealing aliens and misbehaving young people.
Read More

Weekend Box Office: 'Oz' Gets Clubbed by 'The Croods'
March 24, 2013 @ 8:28 pm PST
|
Read More

Box Office Wrap Up: 'G.I. Joe' Kicks Competition's Butt
March 31, 2013 @ 7:11 pm PST
|
"G.I. Joe: Retaliation" kills at the box office, while "The Croods" falls. Which films made the top ten for the weekend?
Read More

'Spring Breakers' Does Shockingly Well on Limited Release
March 18, 2013 @ 8:24 am PST
|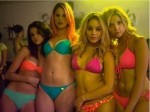 With an impressive haul for its first weekend on limited release, "Spring Breakers" now sets to be released into more theaters than expected. Did fans come to see Selena Gomez and Vanessa Hudgens strip down, or James Franco?
Read More


Watch Spring Breakers Trailer

Spring Breakers Official Trailer #1 (2013) - James Franco Movie HD|2:08

Watch Spring Breakers Online - Watch online anytime anywhere: Stream, Download, Buy, Rent
Spring Breakers is currently available to watch and stream, download, buy, rent on demand at Netflix, FlixFling VOD, Amazon, Vudu, Google Play, FandangoNow, YouTube VOD, iTunes online.